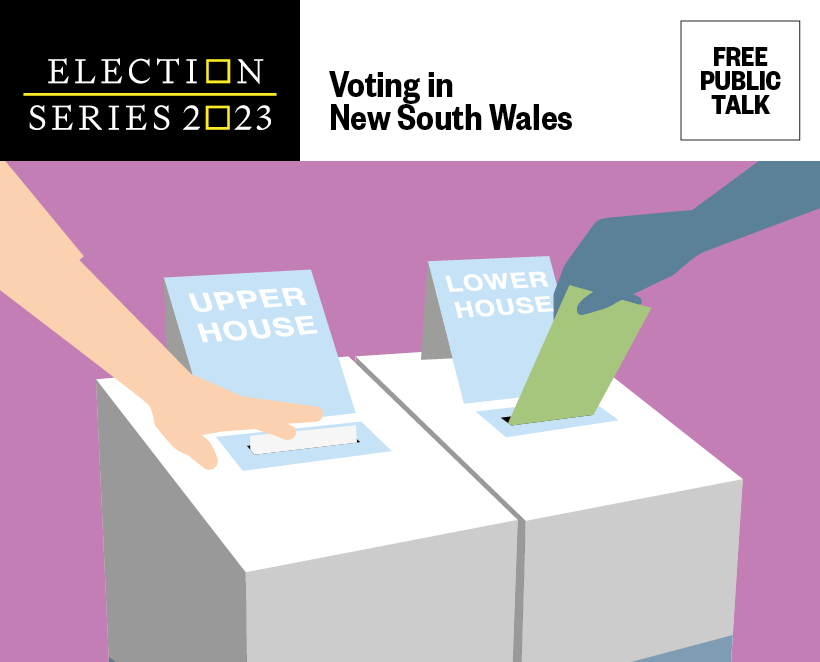 Under the NSW Constitution, the people of New South Wales are asked to elect their state representatives every four years on the fourth Saturday of March.
Each voter is presented with two ballot papers on Election Day: one asking the voter to place the number '1' in the square next to their first choice of candidate, with the option of allocating as many preferences as there are candidates; and another comprising a much bigger list of names, asking for a vote 'above or below the line'.  
Have you ever found yourself scratching your head navigating the two? Have you ever wondered why one ballot paper is larger than the other, or why the instructions on filling out the two ballot papers differ? What about the subtle differences between state and federal elections?
For answers to these questions and much more, join us for a presentation by Professor Rodney Smith on Thursday 9 February at the State Library of New South Wales. Professor Smith is the Interim Head of the School of Social and Political Sciences at the University Sydney, where he teaches and researches Australian politics, elections, political parties, parliaments, and public sector ethics.
This is a free event presented by the Parliament of NSW, in association with the University of Sydney, as part of the Election 2023 series. Please note that the event will be held at the State Library of NSW (our neighbours next door).
When: Thursday 9 February 2023
Where: Gallery Room, State Library of New South Wales
Time: 5:30 pm – 6:30 pm