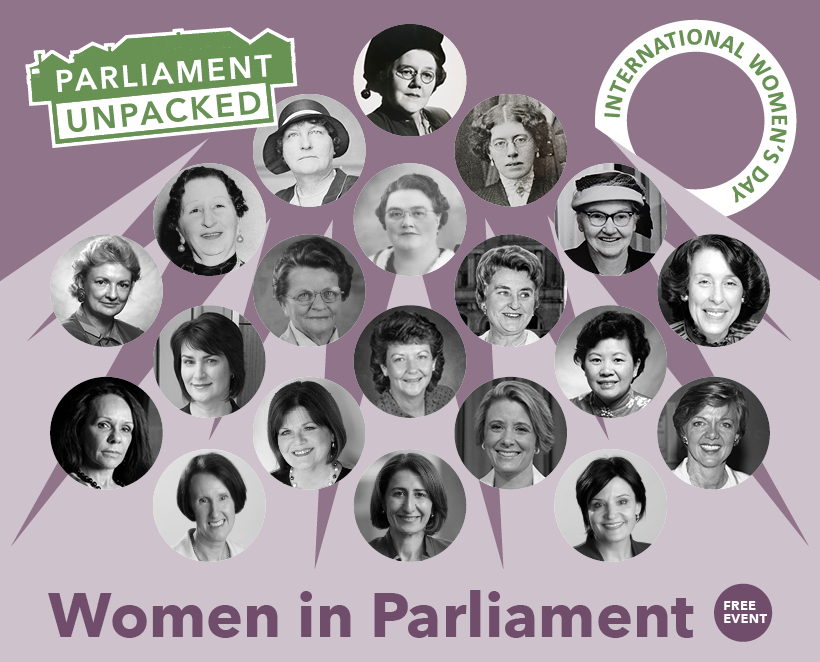 About This Event
As International Women's Day approaches, here in Australia's first parliament, we want to celebrate our female parliamentarians and look at the history of women in politics.
Join us for Parliament Unpacked: Women in Parliament an event live here at Parliament House in Sydney's CBD as well as online. 
What Can You Expect? 
Find out when women first achieved the vote in NSW and how things have changed since the first woman arrived here in 1925
Hear a panel of female members of Parliament speak about their roles as elected representatives both in the Parliament and in the electorate
Meet the Clerk of the Legislative Assembly, Helen Minnican, and find out about her role.
When:  1:30pm to 2:30pm on Thursday 4 March 2021 
Where: Attend either in-person at NSW Parliament, 6 Macquarie Street Sydney, or participate live online. 
REGISTER TO ATTEND IN PERSON       or       REGISTER TO PARTICIPATE ONLINE
Parliament Unpacked is a series of programs exploring how the Parliament works by providing visitors with an overview of the legislature and a chance to hear about the work of members and parliamentary officers.