quick links in this article
Arrival of the Australian Fleet
This painting is a replica of Sydney-born artist Percy Spence's Arrival of the Australian Fleet held in the United Kingdom Royal Collection.
The painting depicts the arrival of the Australian fleet in Sydney Harbour on 4 October 1913. The original was presented to King George V by the citizens of Sydney. This replica was presented to the New South Wales Legislative Assembly by H R Denison, H E Pratten and W Vicars.
On 4 October 1913, huge crowds lined Sydney Harbour to see the arrival of Australia's new naval fleet, comprising battle cruiser HMAS Australia, light cruisers HMAS Melbourne, HMAS Sydney and HMAS Encounter, and destroyers HMAS Yarra, HMAS Parramatta, and HMAS Warrego. HMAS Australia led the fleet in through the heads. To commemorate the day all NSW school children were granted a holiday and presented with a commemorative medal.
The arrival of the fleet marked the nations coming of age as this fleet assumed responsibility for the defence of Australian interests in Australian waters.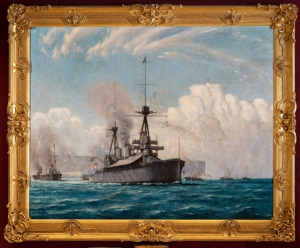 ---