quick links in this article
City Tree Tapestry
In the late 1970s and early 1980s a number of new rooms were added to Parliament House. Artworks were acquired and commissioned to fill these new spaces. The large dining rooms required expansive artworks that complemented the view overlooking the Domain and Botanic Gardens. Artist Fahy Bottrell was commissioned to complete two large tapestries, inspired by the large Moreton Bay fig trees seen from the dining room.
Fahy Bottrell began this tapestry at her studio in Matcham and it was completed onsite at Parliament House.
Fahy described the tree as the perfect motif for politics because, as Fahy reflected:
"Parliament literally has representatives of branches. So I went and explored Sydney Parliament House site and looked at the Moreton Bay Fig trees in the Domain. I studied what the branches were doing and realised… they were a marvellous symbol, a tree and its branches represent politics."
City Tree uses the symbols of waterways, people dotted on the edge and red for the fires that would flare up on the perimeter of the city.
Artist: Fahy Bottrell
Date: 1981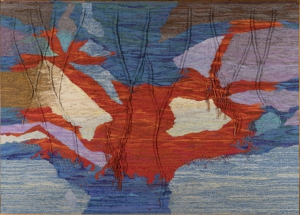 ---
Country Tree Tapestry
Commissioned for the Strangers Dining Room, this wool tapestry was woven in the artist Fahy Botterell's studio. Like its sibling City Tree, the inspiration for this tapestry was also the Moreton Bay figs on the edge of the Domain. The two trees depicted in the tapestries symbolise Parliament and its relationship with the people it represents. Country Tree represents the heat and drought of outback and the Dreaming of First Nations people.
Artist: Fahy Bottrell
Date: 1981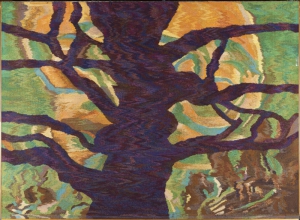 ---