quick links in this article
Portraits
The portrait paintings in the collections of the Parliament have generally been donated or bequeathed by citizens or relatives honouring the service of former Members. Some of the portraits on display are long term loans from the the State Library of NSW or the Art Gallery of New South Wales.
---
Millicent Preston Stanley [Vaughan] (1883-1955)
Artist: Jerrold Nathan
Date: 1951
Millicent Preston Stanley was the first female Member of the Legislative Assembly (1925-1927). She was the second woman to become a Member of an Australian Parliament, Edith Cowan of Western Australia being the first in 1921. Millicent Preston Stanley was a feminist, appointed one of the first female NSW Justices of the Peace, and an advocate for women and children. This portrait was presented to Parliament by the citizens of Sydney in December 1951.
---
Jack Lang (1876-1975)
Artist: Fredrick Leist
Date: 1944
Jack Lang twice served as Premier of New South Wales (1925-27; 1930-1932). He was a controversial Premier and was dismissed by the Governor of NSW, Sir Philip Game, during the 1932 constitutional crisis. His achievements included the provision of state pensions for widowed mothers with dependent children under 14; universal, mandatory, workers' compensation; removal of student fees in state-run high schools and improvements to various welfare schemes. This portrait was an Archibald Prize Finalist in 1944. A similar portrait by Leist is held by the National Library of Australia.
---
Sir George Dibbs (1834-1904)
Artist: Percy Frederick Seaton Spence
Date: 1894
Sir George Dibbs was Premier of New South Wales three times (1885, 1889, 1891 – 1894). He was an advocate for free, compulsory education. Although Dibbs had little interest in Federation, he did lead electoral reform in 1893 which removed rural over-representation in parliament. On loan from the State Library of New South Wales.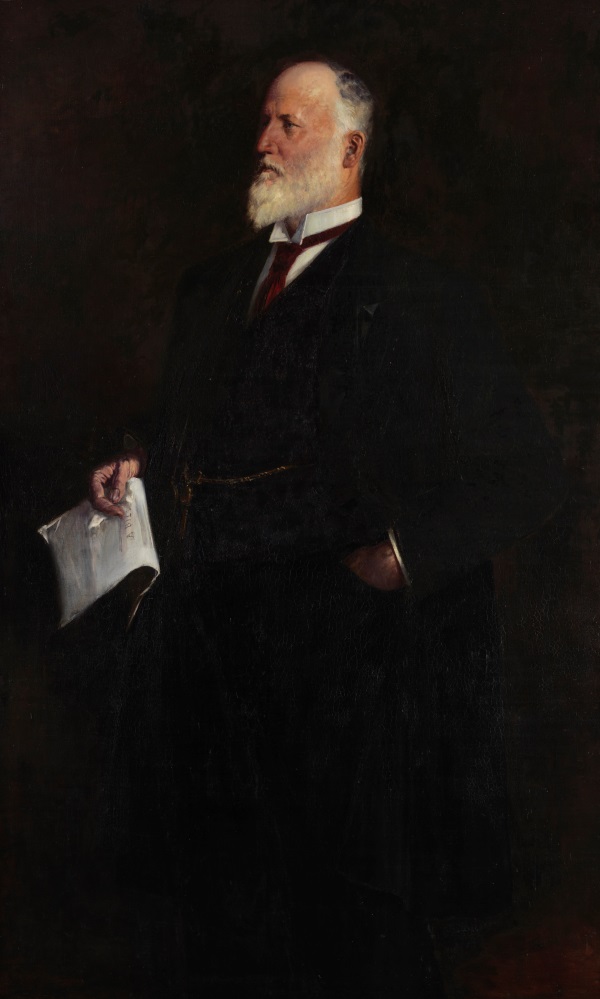 ---
Sir George Reid (1845-1918)
Artist: Gordon Coutts
Date: 1890
Sir George Reid was Premier of New South Wales (1894-1899) Prime Minister of Australia (1904-1909), Australia's first High Commissioner to London (1910-1916) and Member of the House of Commons (1916-1918). In 1889, he was involved with the establishment of the Free Trade and Liberal Association which advocated for free trade and direct taxation. He represented NSW at the Federal Convention in 1897. On loan from the State Library of New South Wales.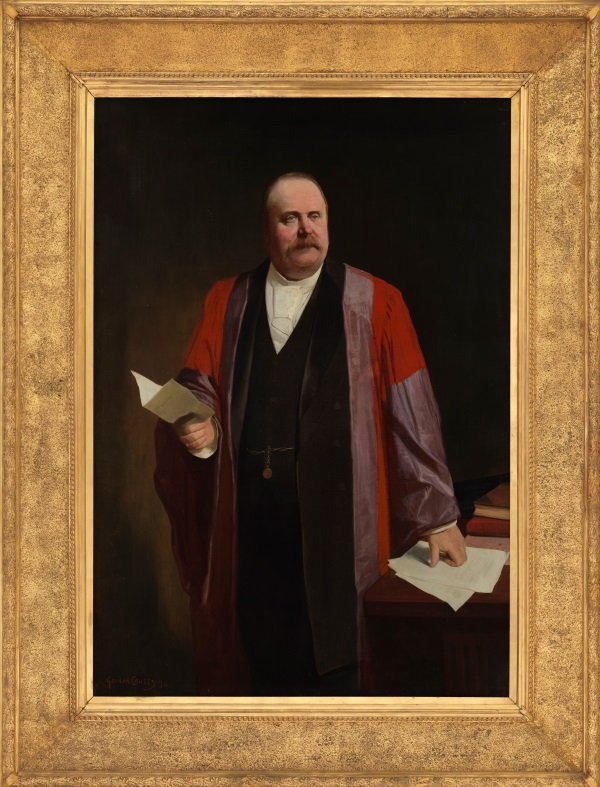 ---
Sir Henry Parkes (1815-1896)
Artist: Artist unknown
Date: No date
Regarded as the Father of Federation, Sir Henry Parkes was the most enigmatic politician of 19th-century Australian politics. Although he received a poor education, he became a skilled writer and orator. In the 1840s, he, with other members of the colony, started agitating for freedom and democracy in NSW. He entered NSW Parliament and remained there from 1843 until 1895. Sir Henry Parkes was the longest serving Premier of NSW, serving 11 years, 9 months and 15 days over five terms. Five years before Federation, Parkes died, and it is widely acknowledged that it was the constitutional conferences that he organised that lead directly to negotiations for federation. This portrait is on loan from the State Library of New South Wales.
---
Sir Henry Parkes (1815-1896)
Artist: Julian Ashton
Date: 1913
Journalist and politician Sir Henry Parkes arrived in the colony in 1839. He became involved in political activities and was elected to the Legislative Council in 1843-1856 and the Legislative Assembly from 1856 to 1895. He was first elected Premier in 1872. Over the next 23 years, he was elected four more times for this role. He was the longest serving Premier of New South Wales whose five terms totalled eleven years, nine months and 15 days.
This portrait is a copy of an earlier portrait painted by Julian Ashton in 1889, where the artist visited Parkes every Saturday for 32 weeks at his home in Balmain. It is now displayed at the School of Arts in Tenterfield. This image of Parkes watches over the procession in the monument Federation piece The Big Picture by Tom Roberts, as a nod to Parkes's contribution to Australia's Federation.
Ashton painted this copy in 1913, on the verso it is inscribed, "This portrait was painted in 1913 from my original in the NSW Art Gallery and from my notes and recollections. Julian Ashton". The portrait was purchased from the NSW National Gallery in 1941 by Premier McKell. Ashton (then aged 91) was present at the unveiling. Ashton painted another copy for the Federal Parliament.
Not only was Julian Ashton a prolific artist, he was known as the 'Grand Old Man' of Australian art, having been responsible for leading the battle for the development of truly Australian-based art (art prior to this was heavily rooted in the English tradition). He was also responsible for training numerous Australian painters. This artwork is a quintessential example of his work, whereby Ashton has used the stance of Parkes and the deep colour palette to help evoke a sense of his character, presence and importance.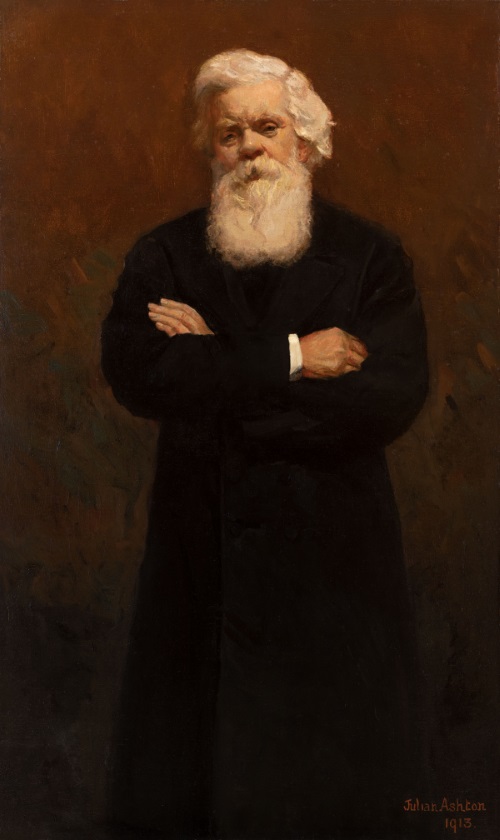 ---
Sir Henry Parkes (1815-1896)
Artist: Lily Parkes
Date: c.1880s
Presented in 2004, by Mrs Margaret Parkes (great-granddaughter of Henry Parkes) this portrait of Henry Parkes was painted by his daughter Lily Parkes the 1880s. Very few examples exist of Lily Parkes' works. The 'sketch in oils' demonstrates a certain affectionate rendering of a father by his daughter, which conveys a different side of Parkes' character to various other interpretations by well-known artists.
---
Sir Saul Samuel (1820-1900)
Artist: J. A. Vinter
Date: 1887
Sir Saul Samuel was a Member of the Legislative Assembly from 1854 to 1856, 1858 to 1860 and 1862 to 1872. He was appointed to the Legislative Council from 1872 until 1880. He was the first Jewish parliamentarian and the first Jewish Minister of the Crown in New South Wales. In 1880 he was appointed Agent General for NSW in London and it was here that he purchased, on behalf of the NSW Government, many of the foundation documents of Australia, including the Sir Joseph Banks papers. On loan from the State Library of New South Wales.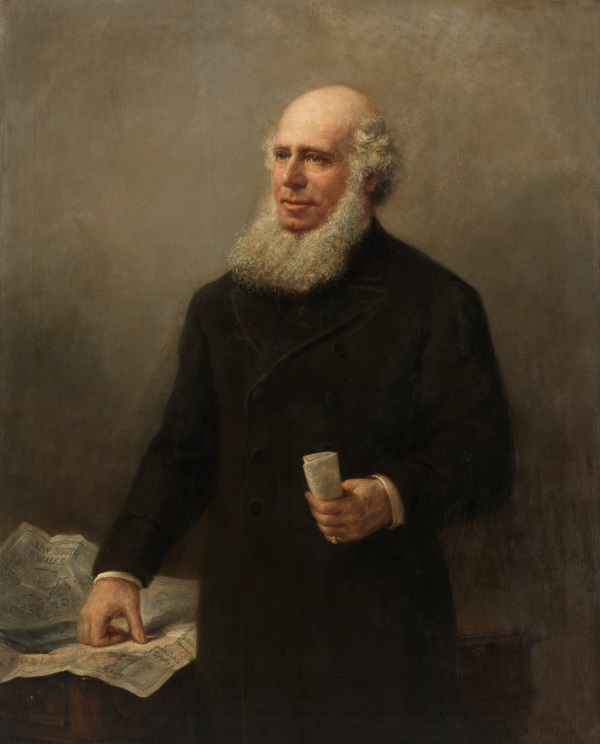 ---
Thomas Townsend, Viscount Sydney, (1733-1800)
Artist: Artist unknown
Date: c1754
Thomas Townsend, a British politician, was born in 1733. He sat in the British House of Commons from 1754-1783. He was elevated to the peerage, as Viscount Sydney in 1783. Townsend is best remembered for advocating, in the mid-1780s, for a penal colony to be established in Australia. Sydney was responsible for giving the new colony a constitution and judicial system suitable for a colony of free citizens. Sydney is named after Townsend. On loan from the State Library of New South Wales.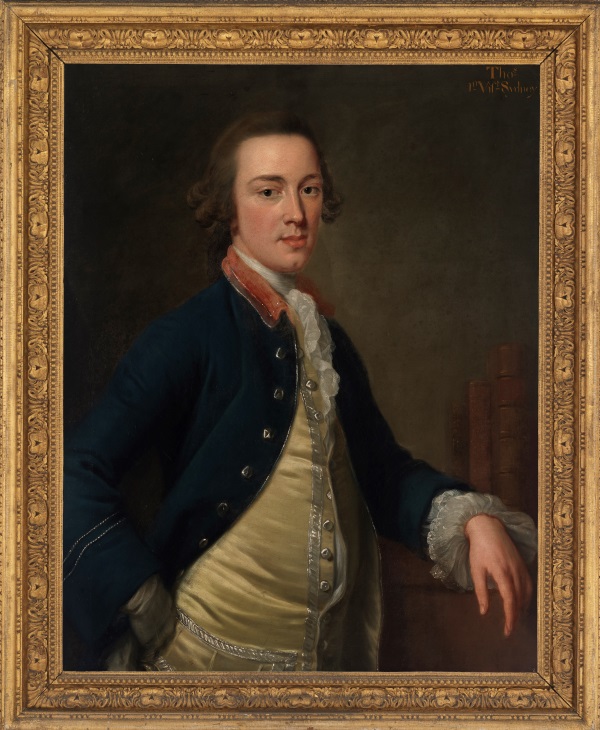 ---
The Hon Sir Daniel Levy (1872-1937)
Artist: Jerrold Nathan
Date: 1930
Sir Daniel Levy was a Member of the NSW Legislative Assembly for 35 years, 10 months and 18 days. He was the Speaker of the Legislative Assembly from 1919 to 1937.
This portrait was a finalist in the 1930 Archibald Prize and was presented to NSW Parliament by his sister in September 1939.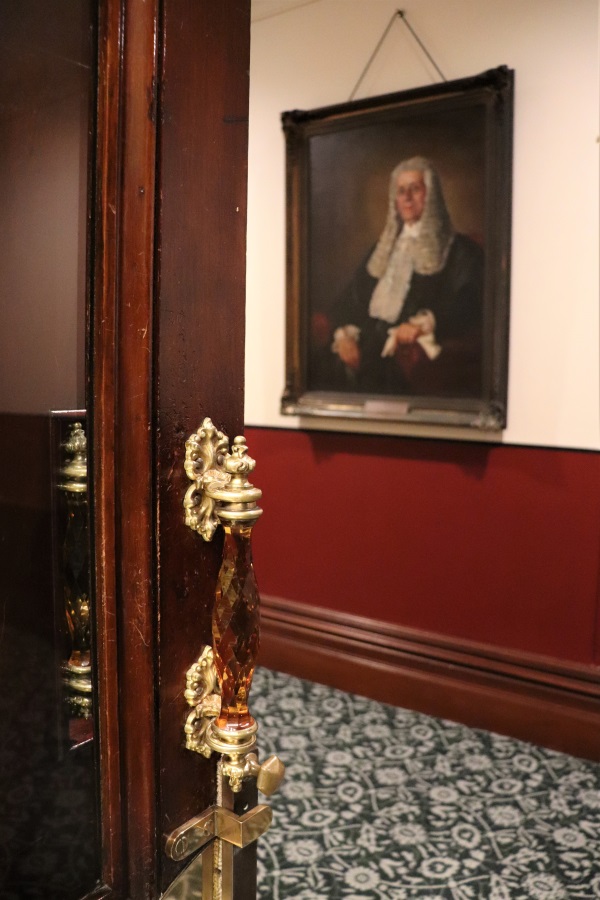 ---
William Charles Wentworth (1790-1872)
Artist: Richard Buckner
Date: 1856
Explorer, author, barrister, landowner and statesman, Wentworth was the son of a convict mother transported to New South Wales in 1790. In 1813, along with Gregory Blaxland and William Lawson he found a way across the Blue Mountains which opened up the rich grazing lands beyond. He was the colony's leading political figure of the 1820s and 1830s, calling for representative government, trial by jury, freedom of the press and the abolition of transportation. He served in the Legislative Council for 12 years and was President from 1861 – 1862.
Originally Costing £177 10s in 1856, this portrait has hung in the Legislative Assembly since 1859 having previously hung in the Chamber of Commerce building. It was relocated to the Legislative Assembly Chamber on a motion of Sir Henry Parkes which was accepted despite strenuous opposition.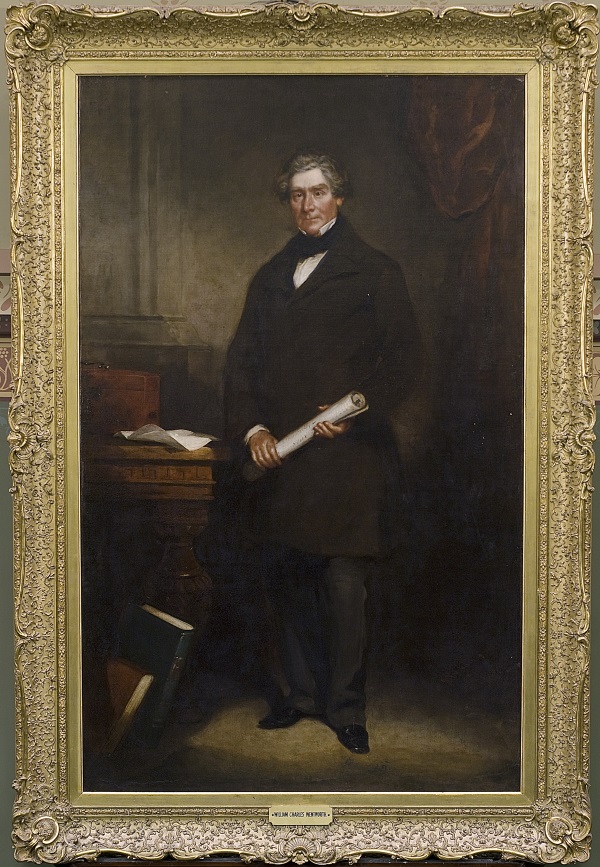 ---
Sir Daniel Cooper (1821-1902)
Artist: Attributed to William Pit Wilshire
Date: 1857
At age 31, Sir Daniel Cooper become the first speaker of the Legislative Assembly (also to date, the youngest NSW Speaker). He attributed his interest in public affairs to Sir Henry Parkes. He arrived in Australia in 1843, and by 1852 he owned extensive property holdings in and around Sydney and in western NSW. He was a Director of Sydney Railway Co. in 1850 and Director of the Bank of NSW from 1847 and president from 1855-1861. He was also the Commissioner of Peace and became a magistrate in 1851. By 1861 Cooper had left the colony and never returned, however he often acted as agent-general for NSW.
In 1857, amateur artist William Pit Wilshire exhibited a portrait of Speaker, Sir Daniel Cooper at the Sydney Mechanics School of Art, Fine Art Exhibition. Wilshire later apologised in a letter to the Empire Newspaper for submitting a "very crude and unfinished portrait… only copied from one of the impressions taken by Messers Freeman and therefore without the usual sittings required in such work". It is noted that this portrait holds an uncanny resemblance to the Freeman engraving. This is the only known portrait of Cooper during his time as Speaker. This portrait was presented to the Parliament by Cooper's son, Sir Daniel Cooper.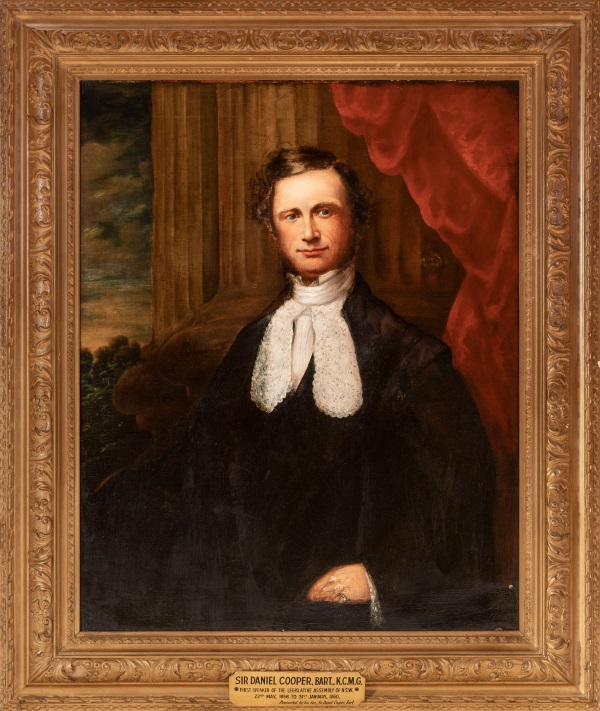 ---
Her Majesty Queens Elizabeth II
Artist: Mara McGregor
Date: 1992
This portrait was unveiled by Her Majesty the Queen on 20th February 1992 to commemorate the 40th year of Her Majesty's reign and the 50th Parliament in New South Was since Responsible Government.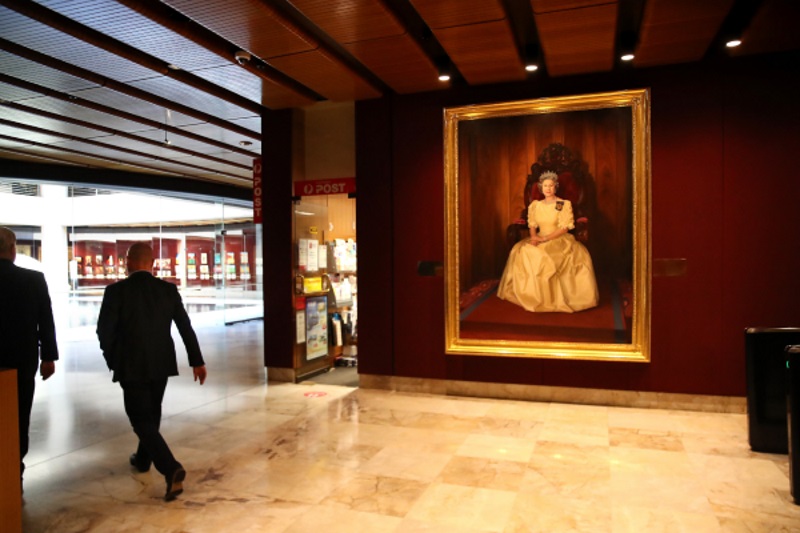 ---