quick links in this article
Fit for a princess
Part of the Parliament's collection of historical treasures, this Waratah Princess crown was once worn by a 'princess' selected annually. Finalists for the role were chosen from young women on their lunch hour in Sydney's Hyde Park. The 'princess' was crowned after the Lord Mayor and Lady Mayoress of Sydney conducted interviews with finalists at Sydney's Town Hall.
The annual festival celebrated Sydney in springtime and ran for 18 years from 1956 to 1973.
NSW Parliament holds the Waratah Princess crown in its collection, celebrating NSW cultural heritage. Jewellery designer Elizabeth Reimer designed this crown in 1963 using glass gems.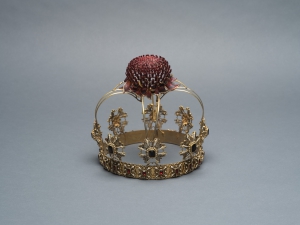 A new crown was created every year; pictured is the 1963 crown. The location of the other crowns remains a mystery. Do you have one in your collection, or know someone who might? Let us know on the Contact Us page!
Did you know
The waratah just missed out on being named the floral emblem of Australia soon after Federation. Instead, it was declared New South Wales' floral emblem by the Governor in 1962 and is even enshrined in an act of NSW Parliament passed in 2004 – the Arms, Symbols and Emblems Act 2004 (NSW).
---