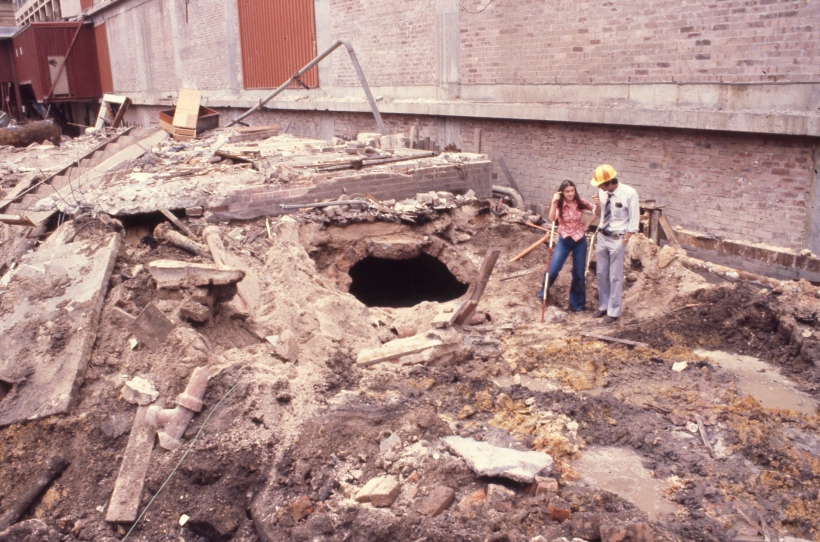 "Age is not what makes archaeology important. How it reveals and helps us understand how we are part of a place and what are our connections. And that is as valid 20 years, 200, 2000 or 20,000 years ago."
Meet Wendy Thorp, the first professional archaeologist to undertake a dig at NSW Parliament House.
In 1977, the Heritage Act was introduced in NSW, the first piece of legislation to put an emphasis on protecting local and state heritage of significance. Soon after, NSW Parliament House underwent a significant renovation.
Parliament was one of the first sites holding archaeological remnants of the early post-settlement period to be excavated under this new legislation.
"Post-settlement Australia was seen to be so new and therefore less exciting than overseas sites," Wendy reflects "but age is not what makes archaeology important. What it reveals helps us understand how we are part of a place and what are our connections. And that is as valid as it was 20 years, 200, 2000 or 20,000 years ago."
The Renovation
The NSW Parliament building began its life as a hospital. Opened in 1816 it was one of Governor Lachlan Macquarie's first building projects on coming to the new colony.
The Parliament has occupied the building since 1829, slowly taking over the Hospital's North Wing and repurposing rooms into chambers and parliamentary offices. At various time grandiose plans for a new Parliament House were proposed, design competitions were held and even a foundation stone laid, but these all came to nothing, mainly for reasons of cost. Throughout the 20th century, many of the original features and decorations were covered up with white paint and harsh fluorescent lighting.
 It was not until the mid 1970s that a major rebuilding and restoration program was begun, creating the present mix of heritage and contemporary buildings which makes up the complex today. The restoration between 1974 and 1984 of the retained hospital building and original chambers, represented a significant change in conservation and heritage policy, practices and skills in New South Wales.
Wendy arrived on-site at the Parliament House dig at 22 years old, fresh out of university. The project was further complicated because the dig was being carried out during a major renovation, so the archaeological team needed to work alongside builders.  
"Archaeology is a female dominated industry, but construction is not," Wendy reflects.

"There were many men that weren't appreciative of either the work or that it was a woman undertaking it and were not shy about letting me know."
Some of the key contributions Wendy made were:
A well dating back to the early 1800s, known as a beehive-style well
Identified and documented heritage fabrics found, dating back to the original building completed in 1816. This has helped guide modern conservation works.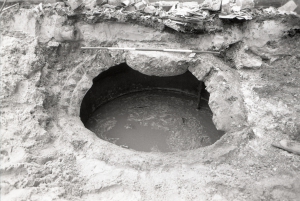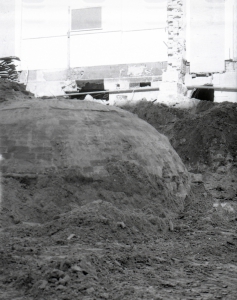 A beehive well is a well that has a dome shaped covering (in our case brick) that covers it's top. This is often the section that is seen above ground found during the archaeological digs.
Wendy went on to become a pioneer in her field and work on neighbouring sites like Sydney Hospital, the Royal Mint and Hyde Park Barracks. The dig at NSW Parliament House was formative for both Wendy's career, and the trajectory of archaeology in Australia.
"It introduced the construction industry, the government and the public to the idea that meaningful and interesting archaeology existed in Australia that belonged to the period of settlement and post-settlement. It was a training ground for me and for other archaeologists in the early projects to learn how to manage sites of this type and what could be achieved. The projects of the early 1980s were seminal in what we call historical or historic-period archaeology and this was the first large one of its type. So, while we might achieve different outcomes now with forty years of experience I think it remains a very important milestone in that development."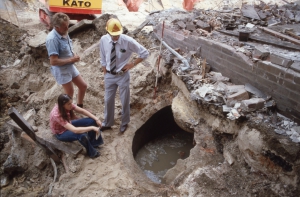 NSW Parliament House is the oldest public building in the Sydney CBD and was the birthplace of democracy in Australia. Wendy's work in the 1970s marked a significant change in the state's approach to heritage policy.
Fast forward to the present, and Parliament House is currently undergoing essential restoration to ensure the preservation of this historic site for generations to come.
National Archaeology Week aims to increase public awareness of Australian archaeology and the work of Australian archaeologists both at home and abroad, and to promote the importance of protecting Australia's unique archaeological heritage.