Calling all history lovers! 
Our new exhibition showcasing treasures from the Parliamentary Collection, is now on show.
Dive into the archives of democracy and unearth rare artefacts from moments in NSW's history. 
Including objects like this 80-year-old parliamentary petition (pictured during installation), the scissors used to open the Harbor Bridge, and a crown worn by a local Sydney princess.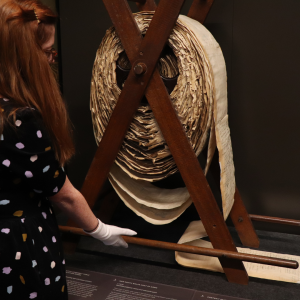 How to visit
Enter Parliament House via the Gatehouse on Macquarie Street, Sydney.
Head to the Fountain Court on Level 7 to find the exhibition near the Legislative Assembly front desk.
Plan your trip now: Find us (nsw.gov.au)