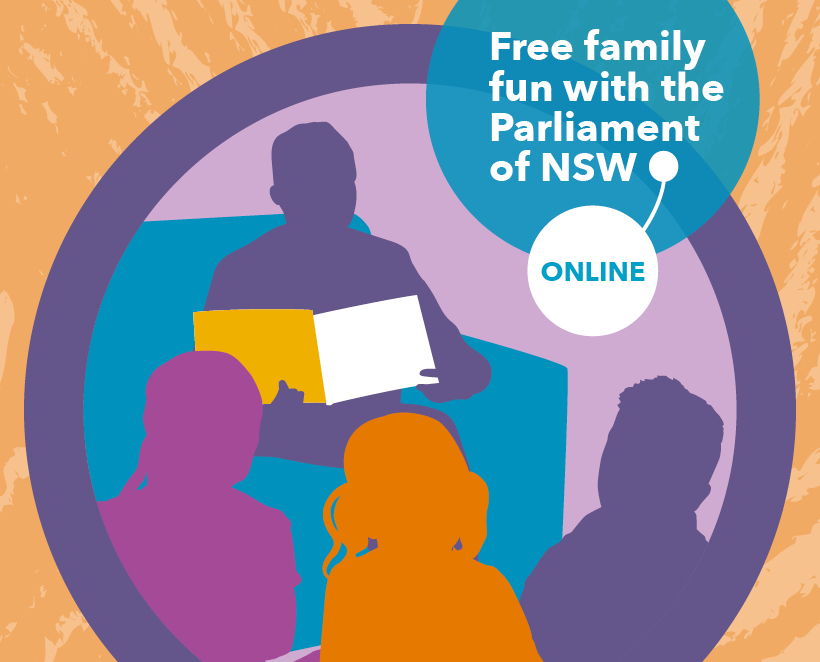 Visit Australia's oldest Parliament via ZOOM this school holiday for free fun educational, activities for children and families.  
We have two days of fun events planned including storytelling and a virtual guided tour through the chambers. 
We also have a school holiday competition. Four lucky winners will each win a Parliament of NSW Gift pack.  
Date 

Time 

Event 

Wednesday January 19

9 – 9:45 am 

Virtual guided visit 

Join Parliamentary Educator Megan and Chamber Attendants Peter and John online. During this session we will walk you through some of the amazing heritage rooms we have here at Australia's oldest parliament. We will be visiting the Legislative Assembly and the Legislative Council and the Wentworth Room. 

Register now to join in!

Monday January 24

9 – 9:45 am 

Storytelling session:

Too Loud Lily – Sophie Laguna 

Lily Hippo is too loud. She sings too loudly, she laughs too loudly, and everyone knows when she is around. At home she disturbs the peace and wakes the baby. At school she gets her friends into trouble. She can't help it. But one day a new teacher, Miss Loopiola, comes to school to teach music and drama, and things change for Lily. 

 

Alpacas with Maracas – Matt Cosgrove 

Macca and his pal Al are the best of friends and love spending time together. When there is an opportunity to enter a talent contest, they just can't resist.  

Join Megan, from the education team, for a reading of these stories from Sophie Laguna and  Matt Cosgrove – unique Australian children's authors  

Register now to join the fun!