quick links in this article
The Jubilee Room, New South Wales Parliament House
The Jubilee Library opened in 1906 and was named in commemoration of 50 years of responsible government.
Designed by Government Architect Walter Liberty Vernon, the room is a reflection of the classic Edwardian reading room. Book shelves line the walls, rising from floor to ceiling, with two tiers of galleries running around each side.
The Jubilee Library, 1963
The room is partially lit by an ornate stained glass skylight in the ceiling. The centre of the skylight features a laurel wreath, with the head of Minerva, the goddess of wisdom, and the floral emblems of the rose (England), the thistle (Scotland) and the clover (Ireland). The text in the centre reads "Knowledge is the Mother of Wisdom and Virtue".
Jubilee Room Skylight
The Jubilee Library remained the home of the Parliamentary Library for 74 years. In 1980, the library moved to a purpose built area within the new Parliamentary annex. The renamed Jubilee Room was redesigned as the Parliamentary Museum and then as a parliamentary committees hearing room, public event space and meeting room.
The Jubilee Room retains the character of the original library with the terrestrial and celestial globes which were acquired in 1868 and 1871. An extensive restoration of the room in 2015 returned it to its 1919 state as a reading room.
During this restoration, a concealed opening was built into the floor revealing the convict foundations of the Rum Hospital.
The books lining the walls are collections of the Great Britain House of Commons Papers and the Parliamentary Debates ( Hansard) from the Commonwealth Parliament and other Australian State Parliaments.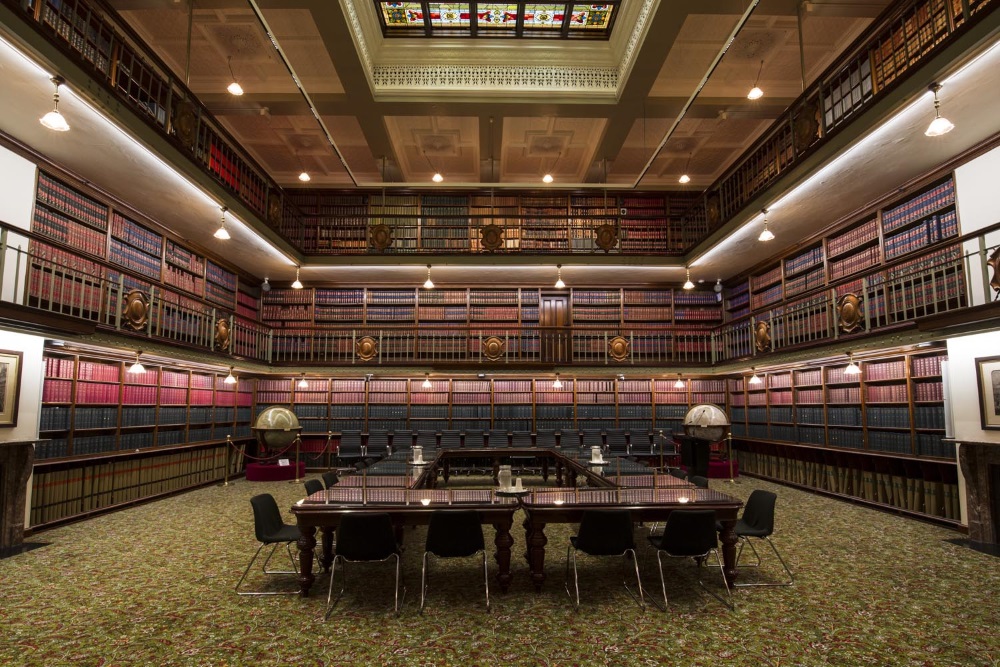 Jubilee Room after restoration
---