quick links in this article
Queen Elizabeth II's First Visit to Australia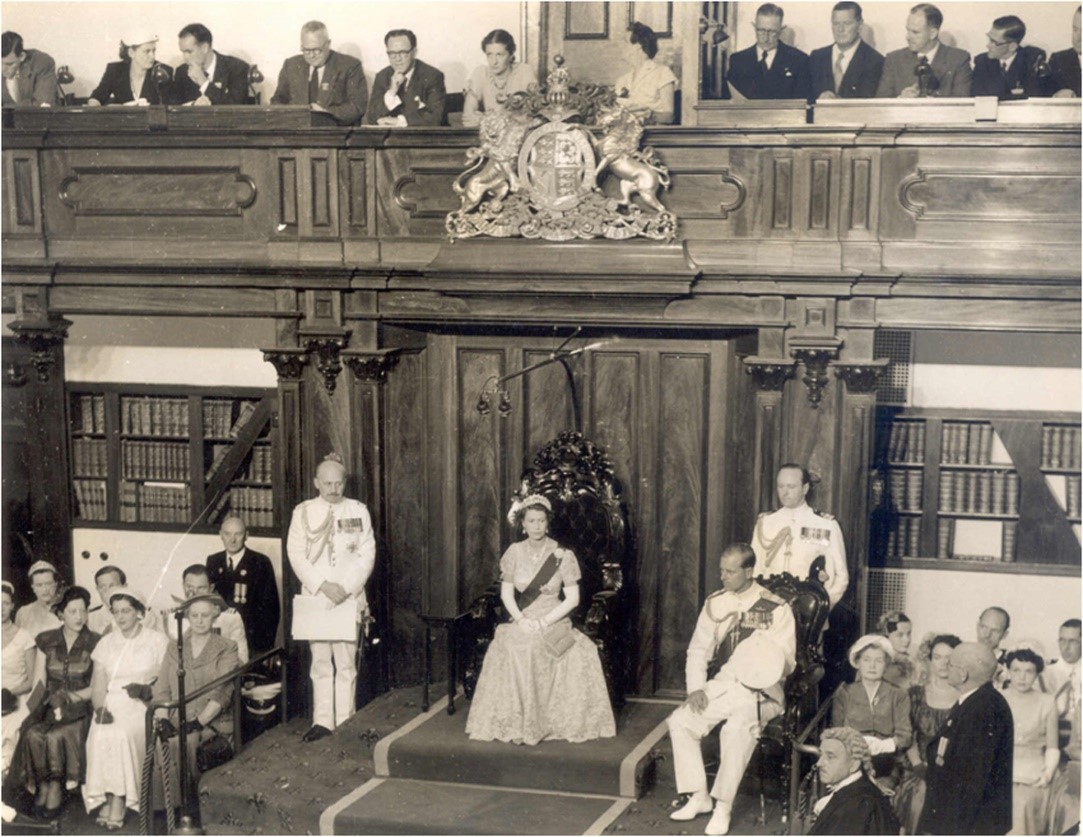 In 1953, Queen Elizabeth II commenced a royal tour of the Commonwealth to mark her recent coronation. The tour included a visit to Australia where the Queen spent 58 days, ten of those in New South Wales.
---
The Queen Visits New South Wales
On 4 February, 1954, in Legislative Council Chamber of The Parliament of NSW, Queen Elizabeth II became the first British sovereign to open an Australian Parliament.
The Queen and The Duke of Edinburgh arrived at the Parliament at 10.20am where crowds of more than 35,000 people lined the footpath to get a glimpse of the royals as they entered the precinct.
The Queen addressed both Houses of the NSW Parliament in the Legislative Council Chamber. Here, The Queen made a short speech at a ceremony that lasted only nine minutes commenting on the warm reception she had been received since arriving in Australia.
"The welcome accorded to us on our arrival yesterday was so cordial and spontaneous that we shall always remember it. I look forward with pleasure to the rest of my stay in Australia".
By the time the royal couple left the House, an even greater crowd had assembled. It was reported that police were called to order people down from awnings along Macquarie Street.
From The Parliament, The Queen was taken to a women's luncheon at the Trocadero Dance Hall on George Street.
Watch
---
The Queen's Speech to Parliament
Her Majesty's speech to both Houses of the NSW Parliament
Thursday, 4th February, 1954
Honourable members of the Legislative Council and members of the Legislative Assembly, I am very pleased that I am able to speak to you in person on the occasion of the Opening of the Third Session of the Thirty-seventh Parliament of the State of New South Wales. My long cherished hopes of visiting, with my husband, my people in Australia are now being realised.
The welcome accorded to us on our arrival yesterday was so cordial and spontaneous that we shall always remember it. I desire to express my appreciation to you, and through you, as their representatives, to all the people of this great State. I look forward with pleasure to the rest of my stay in Australia.
This is the first occasion on which the Sovereign has been able to open a session of an Australian parliament. It is most fitting that this should take place in the Mother Parliament of Australia which had its birth over one hundred and thirty years ago, and in a building which has served as a Legislative Chamber for almost a century ever since New South Wales was granted responsible Government. Measured in terms of recorded history these periods are short, but they cover a large proportion of the period of one hundred and sixty-six years since the first British settlement in Australia. Nowhere else has Parliamentary democracy demonstrated more effectively its soundness and its adaptability to changing times and needs than in this young and rapidly advancing country.
My Ministers are giving close attention to matters of importance to the contentment and prosperity of my people in New South Wales, and they will submit their legislative proposals for your consideration. I now leave you to the discharge of your important duties with the earnest prayer that under Divine Guidance your labours may further advance the welfare and happiness of all
Listen
---
Lunch is Served
After the opening Her Majesty the Queen and Duke of Edinburgh enjoyed lunch at The Trocadero which used to host public dances and banquets at the time. Large crowds had gathered outside the landmark building to greet The Queen as she arrived to attend the first public luncheon on her Australian tour. They were joined by 670 representatives from various women's organisations.
The official table was decorated with the Queen's favourite flowers – pink roses – along with pink dahlias. Pink tiger lilies were pinned to the tablecloth and rose petals floated in the finger bowls. The Queen was escorted by Mrs Cahill, wife of then Premier John Joseph Cahill.
A simple menu for the luncheon had been planned to suit The Queen's tastes and included a fruit cocktail followed by cold steamed chicken with iced asparagus.
Mrs. Gertrude Melville, MLC, gave the opening address, with The Queen providing a reply.
---
Gertrude Melville's address
The women of New South Wales — the wives and the mothers — are particularly honoured and thrilled to be your hosts at this, the first social function of a tour to which we have looked forward with eagerness and greatest joy.
You, our Sovereign, are very dear to the hearts of the Australian people, and your visit has given rise to a great upsurge of sincere loyalty and affection here.
We have a great admiration of the example you, like your revered and respected father, have set to the whole world, both in your devotion to public duty and in your beautiful domestic life. 'We feel that we have known you all your life.
We have read about you and loved you since your babyhood — followed you pictorially and by the written word from girlhood to wifehood, motherhood and Queenhood.
We have rejoiced with you in your growing up; have sorrowed with you and the people of the United Kingdom in those days when suffering and tragedy came so swiftly in the train of total war — when sad bereavement touched you.
It is with extreme pride and affection that we offer you warmest welcome.
Here present to-day are Australian women, representatives of the professions, arts and sciences, and of our many social activities and charities.
Indeed, of all the callings — and they are numerous — which attract women into public and semi-public life in our community.
But, perhaps most important, here, too, are the representatives of our homes and families, the women who play their major part in determining the social progress and greatness of our country.
For us there is wonderful inspiration to be found in Your Majesty's ability to combine the duties of paramount office in our British Commonwealth with that of wife and mother.
Your example is a reminder to us all that society, as at present constituted, rightly demands women's more extensive interest or participation in public life.
Yet at the same time we may accomplish really worthwhile things by concentration upon directing the sometimes complex life of a modern household— by a special devotion to our homes.
'Our unanimous wish and prayer is for the continued good health and wellbeing of yourself, your husband and your children and all members of the Royal Family.
We wish also that your tour in this State and throughout Australia will be, in every way, an enjoyable one, and that, leaving for your homeland, you will take away with you the happiest memories of places and people.
Hon. Gertrude Melville MLC (1884 – 1959)
Artist: Miriam Macrae
Date: 1953
Oil on board
Gift of the Women's Organising Committee of the Australian Labour Party, 1954
---
The Queen's Reply
Although this is my first visit to Australia, I have read a great deal about it and have heard much from Australians I have met in England, and, of course, from my husband, who is no stranger here,
Like so many other members of the armed forces of the United Kingdom, he met with great kindness and hospitality in this country during the war.
I'll has always seemed to me, from what I have learned, that one of the happiest aspects of life in this country is the enduring strength of the home and family,
Were it not so, I cannot believe that Australian manhood would be as renowned as it is for its vigour and its self-reliance.
The pioneer women, by their sacrifice and devotion, brought up their families and created homes under conditions of the utmost difficulty. By doing so they helped immeasurably to bring Australia to nationhood.
Those hard days are over, but the role that women have to play remains just as important, perhaps more so. Home Influence Modern life tends to weaken the influence of the home and the family, and if that influence is weakened in a nation, the strings and vitality will go from it.
In New South Wales and in Australia I rejoice that strength remains as strong as ever. I hope and pray that you will always keep it so.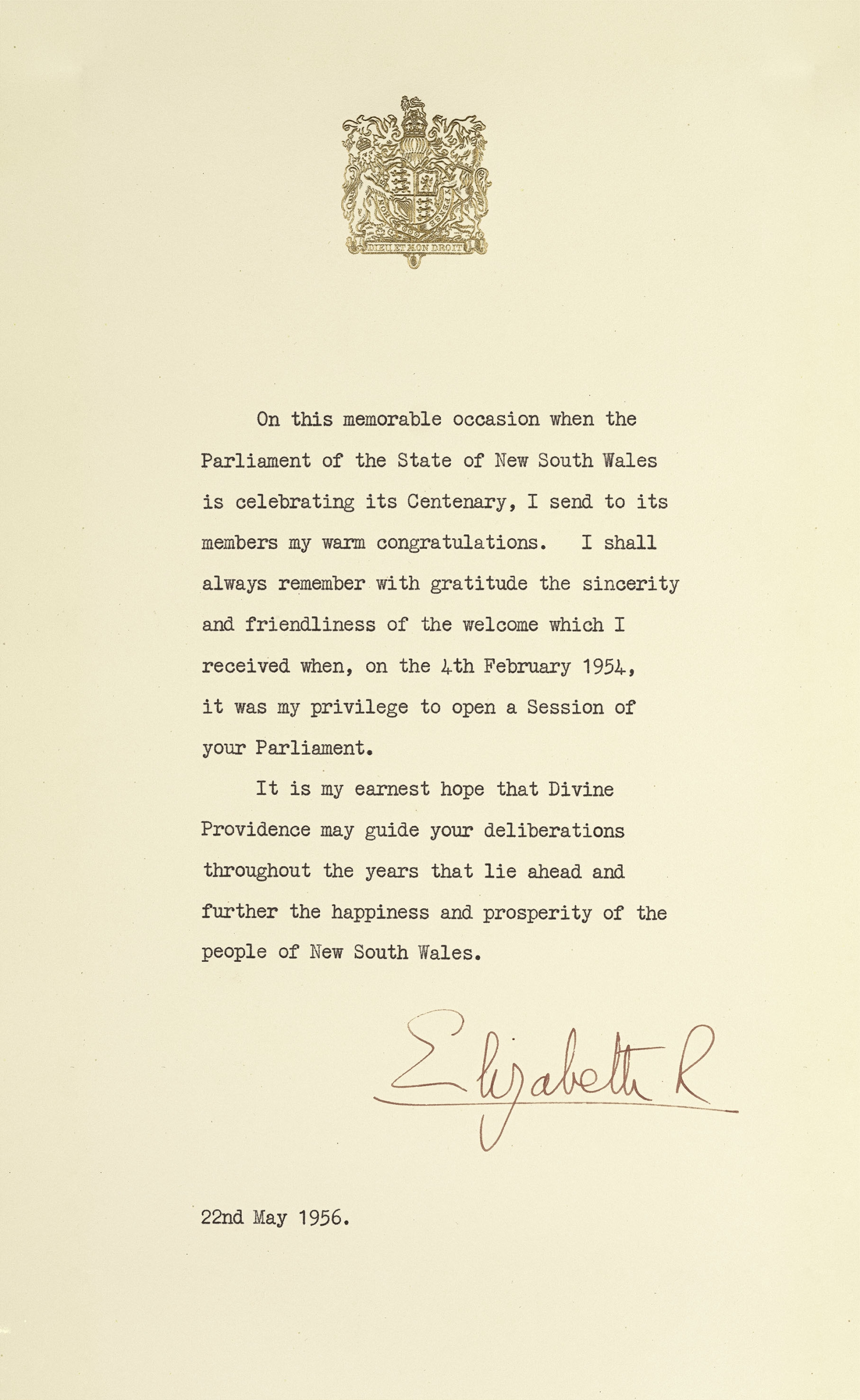 Letter from Her Majesty Queen Elizabeth II
22 May 1956
A letter acknowledging the celebrations for the NSW Parliament Centenary from Her Majesty, Queen Elizabeth II, noting the sincerity and friendliness provided during the 1954 visit.
NSW Parliamentary Archives Collection
---