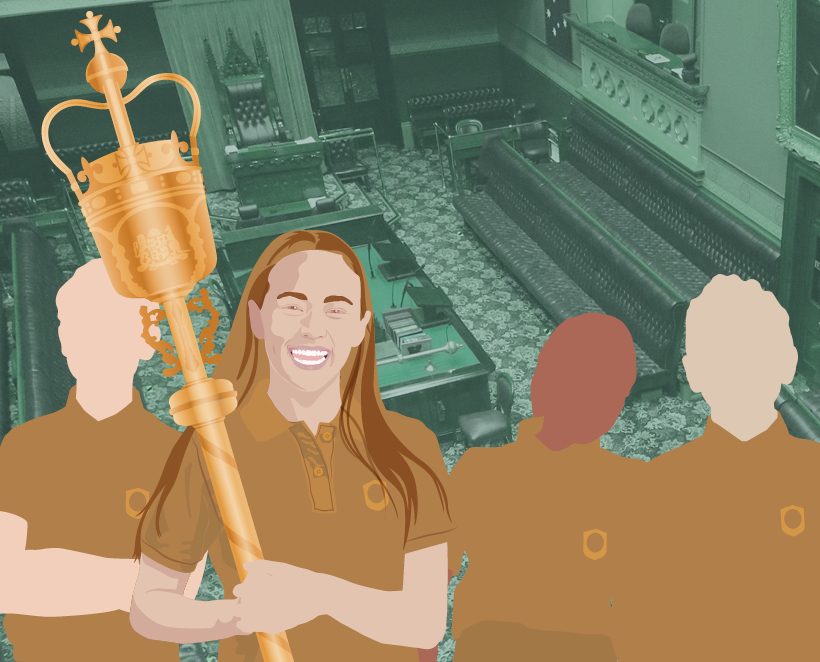 Before you book
Consider what type of experience you would like for your students.
Recommended – Guided Tour of the Chambers and Role Play
Students sit in the historic Legislative Chambers and have an opportunity to participate in a role play. These are only available on non sitting days. 
| EXPERIENCE | DURATION | AVAILABLE ON | START TIMES | MAX. NUMBERS |
| --- | --- | --- | --- | --- |
| Guided Tour of the Chambers and Role Play | 90 Minutes | Non sitting days only | 9:30 am, 10:30 am, 11:30 am, 12:30 pm, 2:00 pm and 3:00 pm | 60 |
Please allow sufficient time (at least 15 minutes) before and after your visit for students to drop off and collect bags, use toilets, and get through security checks.
On days that the Parliament is sitting, students can sit in the public galleries to observe parliament. However, there is no role play available on these days.
---
How to book
Check the NSW Sitting Day Calendar to find the right date for the type of experience for your students. The days marked green, dark red or blue indicate that one or both of the houses are sitting and tours are not offered. The Parliament is closed on weekends and public holidays
Please have the following information ready

School's name
Your phone number and the school phone number
Your best contact email address
Year of students
Number of students
Number of teachers and accompanying adults
Details on where your class will be up to with the unit of work on the Parliament
Details of any students with special needs to help us prepare for your visit
Once you have all your info ready, please contact us.
Call (02) 9230 3444 Email us directly
---
After booking
Please see our Venue and Safety Information Policy.
Inform the students their bags will be scanned (similar to an airport) when arriving at the NSW Parliament. Students should not bring sharp objects, scissors, compasses etc.
To add to your experience, you may be able to meet your local member! Once a booking has been made, an email will be sent to the electorate office, and the Member will attend if available.
Choose students for the role play before you arrive for your program. On the day, students will be given pre-written scripts to read. Some suggestions to consider when selecting students could include:

Students who are fluent readers
Students who are happy to speak in front of their peers
Students from both classes if your excursion combines different classes.

To stay up-to-date with education programs subscribe to our Teacher's Newsletter.
In one tour group you will need 11 students to play;
| ROLE | STUDENT NAME |
| --- | --- |
| Speaker |   |
| Minister for Education |   |
| Shadow Minister for Education |   |
| Premier |   |
| Leader of the Opposition |   |
| Clerk |   |
| Serjeant-at-Arms |   |
| President |   |
| Leader of the Government |   |
| Leader of the Opposition |   |
| Usher of the Black Rod |   |