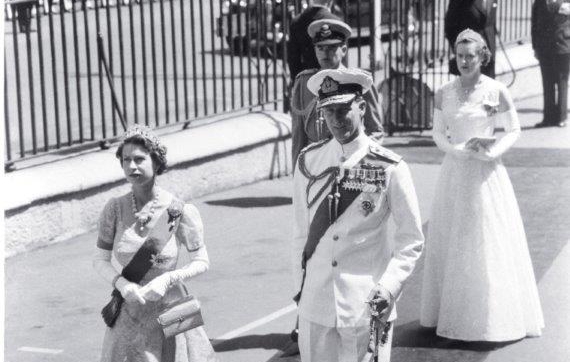 On 4 February 1954, Her Majesty Queen Elizabeth II attended the Opening of Parliament in New South Wales. The Queen's attendance at this event marked not only the first time a reigning monarch opened an Australian Parliament, but also the first time a reigning monarch had visited Australia. Her Majesty, accompanied by Prince Phillip, was just 28 at the time of her visit, having only just ascended to the throne in 1952. The Queen and Prince Phillip's tour of Australia was met with great enthusiasm wherever they went, with large crowds assembling to catch a glimpse of Her Majesty at all of the 28 major events she attended during her 10 days in New South Wales.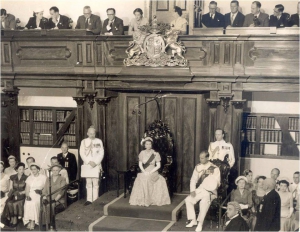 The Queen Opening Parliament in the Legislative Council Chamber, 4 February 1954
Why was the Queen opening our Parliament in the first place?
The Queen is our Head of State. However, Australia is a constitutional monarchy, so the Queen shares power with the government of the day under a written constitution. This means The Queen is not involved in the day-to-day workings of the federal or state governments in Australia, and acts upon the advice of Australian Ministers. Essentially, Her Majesty's role is mostly ceremonial.
How does it work with the Queen based in the UK?
In New South Wales, the Queen is represented by the Governor and the Governor is appointed by the Sovereign upon advice of the Premier. As the Head of State in New South Wales, the Governor is responsible for performing Her Majesty's duties to ensure a stable government and prevent abuses of power from occurring.
The Governor's role can be split in to three main areas: constitutional, ceremonial and community:
Constitutional
Appoints the Premier and Ministers following an election 
Attends the opening of a new Parliament
Meets with the Executive Council to make sure Government decisions are legal
Decides the dates for elections and Parliamentary sessions
Approves bills that have been passed by Parliament
 Ceremonial
Presents official awards, such as the Order of Australia 
Presents service and bravery awards that recognise outstanding Australians
 Community
Represents NSW at special occasions 
Patron to community organisations 
Supports important community activities.
The current Governor is Her Excellency the Honourable Margaret Beazley AC QC. She is the 39th Governor of New South Wales, commencing her five year term on 2 May 2019, and is the second female Governor to represent the Queen in New South Wales.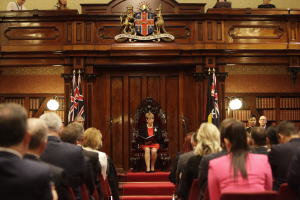 The Governor of NSW Opening Parliament 7 May 2019 
Isn't the Premier the head of New South Wales?
In Australia, the Head of State is different to the Leader of the Government. The Premier is the Leader of the Government, and responsible for the day-to-day business of the New South Wales government. The Governor of New South Wales performs an entirely different role with a constitutional, ceremonial and community focus.
Resources