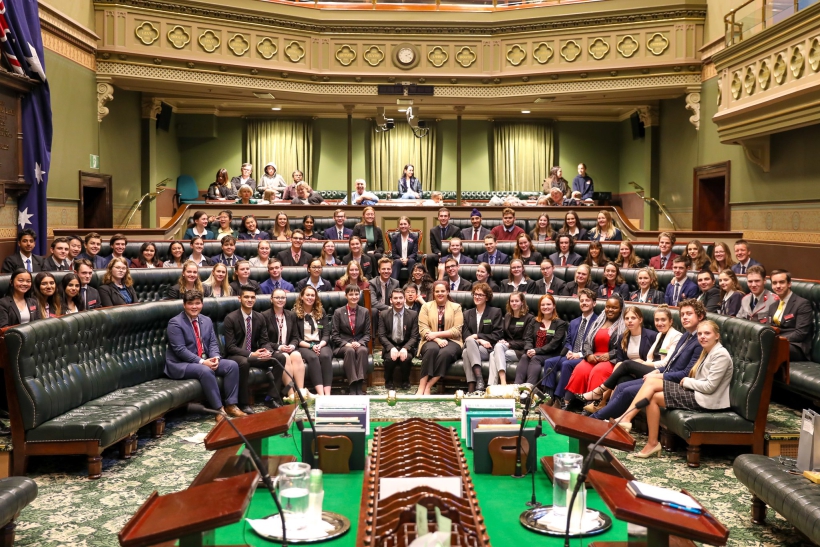 Can't vote yet? Are you interested in politics or passionate about social issues but not sure how you can make a difference as a young person?
Even if you're not of voting age, there are many opportunities to participate in politics and make a difference to society in the political realm. Read along to find out how.
YMCA Youth Parliament
The YMCA Youth Parliament is a program run annually by the YMCA NSW. It is open to students in years 10, 11 and 12 across NSW and focuses on the empowerment of young people through political engagement.
Students sit in the NSW Parliament chambers and experience what it's really like to represent their community in Parliament.
The program helps to develop students' skills in creating social change while being supported in a safe environment. Since Youth Parliament began in 2002, approximately six pieces of youth legislation discussed during the program have been passed into NSW law.
Find out more and how to apply here.
Write to your MP
Writing to your local member of Parliament allows you to raise your voice on an issue you believe is important.
This is a great way to make a connection with your local MP and let them know the challenges you're facing or the issues that are important to you – you might be surprised at what comes out of it and how they can advocate for you and your community.
Find out who your MP is by reading our dedicated blog. Here, you can find the details you need to email, call, or write to them.
Secondary Schools Student Leadership Program
This program, run by the Parliament's Education Team, invites secondary school captains and prefects from across the state to visit NSW Parliament. School captains learn how the Parliament works while discussing the importance of leadership and how to develop leadership skills. MPs from each student's electorate are invited to participate, and students can visit the public gallery to watch Parliament in session. Students also visit Government House to meet the Governor.
The Parliament's Education Team contacts every high school in NSW to invite them to take part in this program.
Start a petition
A petition requests for a change or action to take place. Any NSW resident can start a petition and the petition can be presented to the Legislative Assembly or the Legislative Council. The subject of the petition must be a matter upon which the state government is able to act.
Petitions provide an important avenue to convey your concerns directly to Parliament, and allow young people specifically to become involved in the legislative process.
Find out more about how to create an e-petition or paper petition directed to the Legislative Assembly here and the Legislative Council here.
Girls Takeover Parliament
Girls Takeover Parliament is a program run by Jasiri Australia. It aims to empower young girls to reach leadership positions both now and in their future.
The program provides young women with the opportunity to discuss topics focused on leadership, political processes and public speaking with female parliamentarians who are able to share first-hand experiences.
The program is open to year 9 and 10 students in the hope of encouraging the next generation of female change-makers.
Find out more by visiting Jasiri Australia on Facebook or contact parliament@jasiri.org.au
Visit your Parliament
Come and see NSW Parliament for yourself! Parliament House is open to the public on Monday to Friday, from 9am – 5pm. Public tours of the Chambers run on Mondays and Fridays, or come along with your school. Public events and exhibitions are held regularly too.
Find out more about planning your visit, and sign up to our mailing list to keep up-to-date with upcoming events.
Enrol to vote if you're 16 or 17
Finally, as soon as you turn 16 you can enrol to vote! Although you can't vote until you turn 18, it's a great idea to enrol early so you will be ready as soon as the big day rolls around.
Find out more on the Australian Electoral Commission's website.
Image credit: YMCA Youth Parliament